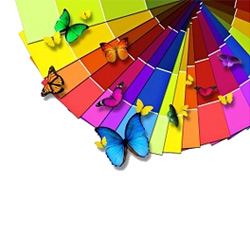 In this age of tough competition, it is difficult to sustain your business and achieve the optimum level of profit. Brochures are an integral part of your business. It is often used to bridge a gap between sales strategy and its main purpose of advertising. Brochures not only help you to achieve your target audience but also win them.
As a professional brochure design company in Kolkata, we create unique brochures to cater to your needs. We have an efficient and creative team of graphic design experts who make sure that the brochures are made with utmost perfection and creativity.
The perfect blend of unique concept and good design can change the very look of a brochure. A well-designed brochure not only tells your client about your product and services; it also boosts your company's overall impression in the minds of your clients.
We offer brochure design services in India which includes:

Bi-Fold Brochure Design: Most economical, viral marketing tool to promote your business.
Tri-Fold Brochure Design: Triple the appreciation from your customer, guaranteed!
Flyer Design: Helps your organization to be in the "Limelight" and reach out to your target audience by advertising your products/services.
Catalog Design: Draw attention and popularity by spreading awareness among your clients with a "Catchy" catalog.
Pamphlet Design: A pamphlet can do wonders to enhance your company's "Image".
Leaflet Design: Distribute information among a greater circle of customers.
E-Brochure Design: Apt for today's generation and helps your organization to save time, printing expenses and environment.
Therefore, if you are looking for creative brochure design agency in Kolkata, that can seize the attention of viewers forthwith, you need to bank on Webaholic.
Why Choose Us As Your Preferred Brochure Design Company in Kolkata?
At Webaholic, we create a unique brochure and if you are looking for content writing services, we can take care of that too.
We maintain high-quality design standards and our copywriting talent is top-notch.
Furthermore, We will give you 2 design concepts to choose from to meet your satisfaction.
Not just that, we will give you 4 rounds of revision on the chosen design to meet your satisfaction.
And yes, we will give you the full source file for print.
Our Brochure Design Process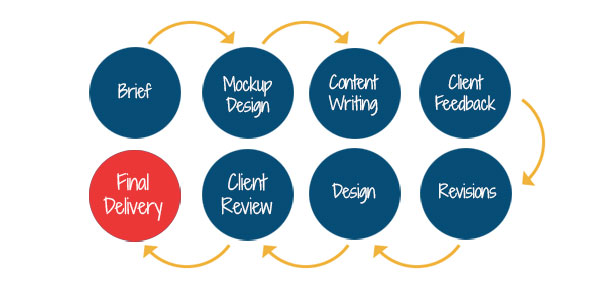 Brief: A great design brief is like a roadmap. Our brochure designers will ask for a brief from you
so that we get an idea about your business, product/services and what you are looking for. It is really important to understand the message you are trying to convey through your brochure/catalog/flyer design.
Mock-up Design: As soon as we get the briefing, our graphic designers get started for mock-up design. A mock-up is a full rendering of your design. Mock-up is important because it will show you what exactly you can expect from the final product.
Content Writing: Besides the mock-up design, our content writing team starts preparing the content for your brochure. Here we include the accolades about the company. Our content writers make sure that your brochure appeals to your potential customers and give them a reason to keep your brochure for any future requirements.
Client Feedback: Now we will send you the mock-up design and the content writing for your feedback. You will have to go through it so that we get a view that whatever we have sent is according to your needs and likings.
Revisions: In case if you want some changes in your brochure, our experienced designers and content writers will get back to you and hear about the modifications or suggestions and immediately get down to work on it.
Design: Once we are done with the revisions suggested, we complete the remaining pages of the brochure and send it to you. Since we have got your feedback already, this design will be according to exactly what you wanted.
Client Review: Now we will wait for you final reviews and if everything is up to the mark, then your brochure is completely ready.
Final Delivery: Once everything is finalized, we make the final delivery files in different formats.
If you are still looking for the best brochure designing services in Kolkata then look no further, you have come to the right place. Our experienced graphic designers have the ability to provide you creative concepts and design an appealing brochure, flyer, pamphlet, leaflet and catalog that can help you drive more customers.
Some of Our Brochure Design Works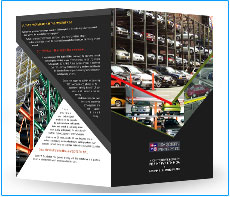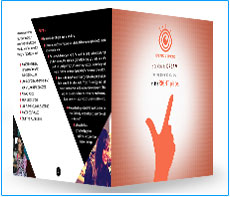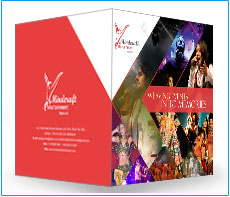 What Our Client's Say About Us

Some of Our Happy Clients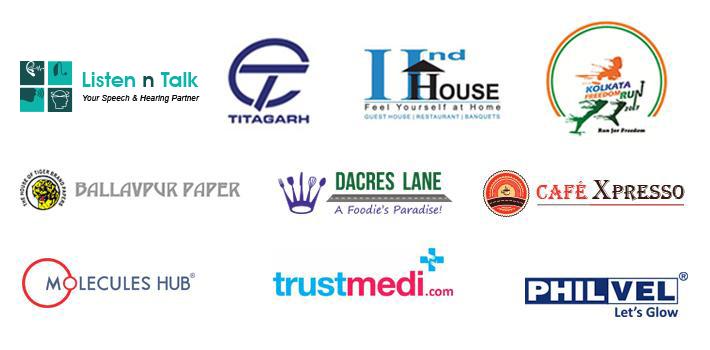 Frequently Asked Questions
Most of our clients don't know much about our brochure design process. Here are some of the queries we often get from our clients.
1. Can you redesign my existing brochure design?
Yes, Absolutely! We can revamp your existing brochure design. Our graphic designers will provide creative ideas, elegant mockups to improve on your previous design and rework on the design to give your brochure a innovative and fresh look.
2. Do you provide printing services as well?
No, we don't provide printing services. We are good at designing and that's what we do. But certainly we can give you some references of our preferred printing houses.
3. Can you update my already designed brochure?
Yes, why not! Our brochure designers can update your previously created brochures based on your requirements. Be it adding more pages, updating existing content or suggesting some changes in your existing brochure, we can help you with everything.
4. How do I view & suggest edits on the mockup designs?
We will email you the mockup design and from then onwards you can write back to us with the changes you need on the design or we can talk over the phone to get a better understanding about the edits.
5. How much do you charge for brochure designing?
Actually, it depends! The cost normally varies based on your requirements, brochure type, number of pages, the complexity of the design etc. You have to be patient, a creative design needs its due time. We always try to complete as soon as possible not compromising with the quality of our work.
6. How much time do you need to design a brochure?
Well, it depends! The time generally varies based on different factors such as, type of brochure, total number of pages, the complexity of the design, number of design/content edits you make during the design etc.