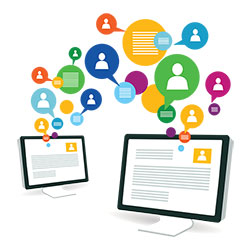 As Bill Gates said "Content is the king" and that is true for your website too. Web content plays the most important role in attracting your visitors to explore the site entirely.
You may have numerous visitors from different niche. But your website just takes a few seconds to decide whether they will buy your product / service or not. And content is one of the most prominent phenomena to affect their decision.
According to Hubspot: 73% of consumers get frustrated by irrelevant web content.
As a content writing company in Kolkata, we specialize in the areas of creative & SEO content writing for a blog, sales page, newsletter, website, brochure and much more. Our creative content developers are able to portray your business with relevant and useful content.
Our high quality content writing services focuses on:
Unique Content: We serve the copyscape passed contents to maintain the uniqueness of the content.
Relevant Content: We know that the content is the backbone of your business. So, we do provide the content that is relevant to your business.
Informative Content: We do believe in research before writing your content to serve your content with best and proper information.
Lucid in Language: We write the contents in such a lucid language that visitors from every niche can understand it.
Concise and Crisp: We know the website visitors do not want to waste their time for a lengthy content. So, we prefer to write concise and crispy content with every possible information.
Being one of the best content writing agency in India, we know that compelling content can be the key to persuade your visitors to paying customers. Our professional content creators will structure your web content in a manner that your potential customers can get what they want, at a glance. Now to meet with your requirement, we offer various content writing services at an affordable cost.
Article Writing: Our article writing services provide the information that your site visitors need in a clear, organized and user-friendly way. The content writing team knows how to write SEO friendly article, which can rank higher in Google and help boost your website views and sales.
Blog Post Writing: The blog is your brand. Our content writing team produces high quality content which your audience deserves. Our creation process matches every asset to your commercial goals and will draw the target audience to buy your product or services.
Website Content Writing: Our professional content writers will help you create great, SEO optimized website content for increased web traffic. We plan our content strategy in such a way so that the content fits together on your website to influence your target audience in huge scale.
Press Release Writing: Our experienced content writers will identify newsworthy angels that people care about and write press releases for your news, event or announcement. We make sure that your press release gets read and gives you an instant exposure.
Product Description Writing: Our content writing experts will explain in details what your product does, its intended use, added value or benefits and why someone should buy it. It will give your target audience what they need to know and more importantly skyrocket your sales figures.
Product Review Writing: Our professional team will deliver authentic product-centered content that will explore in-depth both the benefits and drawbacks of specific goods. This review will boost your product's image and make it the go-to product. It will also help you build trust and loyalty.
We are proud to be one of the top content writing companies in Kolkata for impeccable content creation services. Our team of professional writers provides 100% plagiarism free content that is optimized with the right keywords. No matter what kind of story you want to tell, we will help you craft meaningful words that will make your message one-of-a-kind. For fast and efficient service, look no further than our content writing company.
Why Choose Us As Your Preferred Content Writing Company in Kolkata?
We have a team of experienced content writers in Kolkata who knows how to create SEO friendly content for your target audience.
Not only that, we are very particular about creating 100% unique (Copyscape passed) content that performs well in search engines.
We don't compromise with quality to meet your deadline. Because in the end quality content always stands out.
Our Content Writing Process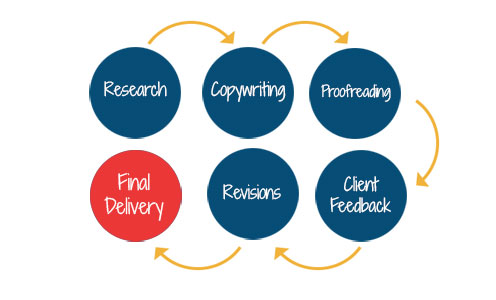 Research: To start your content writing project, our team will get down to research on the topic as well as your business. It is very important to incorporate the key points that will make the article, blog or web content stand out in the crowd. By this we can have an entire outline finished so that it helps our top content writers to just sit down and write.
Copywriting: Copywriting will motivate people to take some form of action such as make a purchase, click on a link, donate to a cause or schedule a consultation. Our expert team of copywriters will write a copy based on the research done and create a content which will help you to promote your business. We always keep in mind that the copywriting should be professional as well as attracts your target audience.
Proofreading: After we are done with the copywriting, our team will now start with the proofreading. For perfect proofreading, our team follows some unique steps as proofreading backward (helps us to see the writing with fresh eyes), stop at every punctuation mark, scan the first word of each paragraph, verify spellings, important dates, events, scrutinize each and every word, etc.
Client Feedback: The copywriting is now sent for client's feedback. Now, you will have to go through it and inform us. Our expert content writers will be ready to hear all the suggestions or modifications from you.
Revisions: If there are any revisions suggested by you, our team will get in tough directly and make the necessary changes in the article or blog post.
At Webaholic, we provide grammatically correct, plagiarism-free content that engages with your audience. So, if you are looking for professional content writing services in Kolkata with the perfect aroma of creativity, then you can contact us for your next content writing project. We are ready to serve you.
What Our Client's Say About Us

Some of Our Happy Clients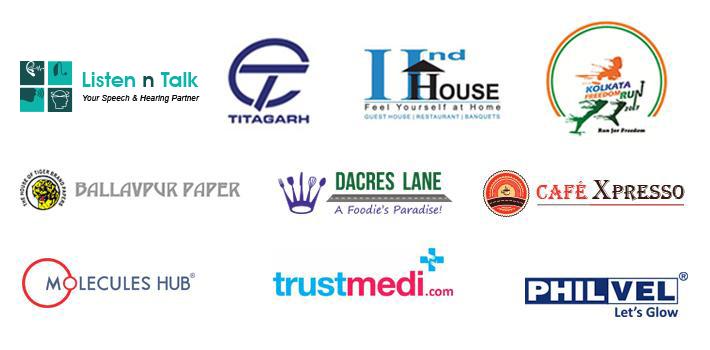 Frequently Asked Questions
Below are some commonly asked questions related to content writing services. Do you have some in your mind? Then quickly go through the below-mentioned questions and answers and have a clear view of our content writing services.
1. Do you offer free demo content writing services?
We only provide free demo in case of bulk content writing projects. If it is very minimal work, free demo is not provided in that case. Actually, if it is a work of 300-500 words, then in that case free demo is not that much required.
2. Will the content be plagiarism free?
Yes, of course. We believe in originality and creating things on our own. Our content writing team is trained in such a way so that they do not practice plagiarism. We will provide you with a content which is original and has no match to anything that is already used by some other companies.
3. Do you offer content rewriting services?
We provide content rewriting services, as we know that a whole new content can affect your clients visiting your website. Keeping that in mind, we provide with content rewriting.
4. How much time does it take for you to write content?
Well, it depends on many factors. The type of content we are writing for a you such as, blog post, article, website content, newsletter etc. Also, our content creators have to research your industry, keep an eye on your competitors and much more. It varies from client to client, depending on the need and requirement.
5. What are your charges for content writing?
Charges usually vary depending upon the quality of content, its complexity and the category of project we are working on. It will also depend upon the depth of the content and the frequent scope that we have. We will provide you high quality content at a fixed rate in accordance to the market.
6. Do I have to pay extra for revisions?
No. We generally provide two rounds of revisions, if only the changes are minimal and made within 7 days, which do not include any grammatical errors and spelling mistakes. However, after the said time frame, we will treat revisions as content rewriting.
7. Will I own the content you supply once I have paid fully?
Yes, of course. Once the full payment is made, the content provided to you will be completely under your copyright and can be used as you want it to be.