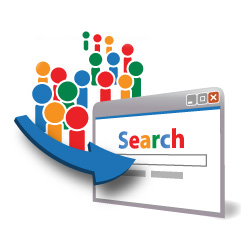 Search Engine Optimization (SEO) is an integral part of digital marketing. It not only helps your website to rank higher in search engines, but also attracts more visitors to your website.
According to a comScore survey: Global search market draws more than 100 billion searches per month.
We, at Webaholic, offer you search engine optimization services at an affordable rate. Our SEO experts make sure that we improve your website visibility, drive more organic traffic, which leads to higher ROI.
Being the best SEO company in Kolkata, we understand that if your website ranks higher in search engine results pages (SERPs), your chances to convince the searcher to buy your products / services becomes higher. We take a closer look at your business goals, your competitors, find out relevant keywords that your potential customers are searching for and create our SEO strategy based on these factors. Our highly efficient team can work on complex e-commerce SEO as well as Google My Business or local SEO for small businesses.
As a premier SEO agency in Kolkata, we offer:
Complete website SEO audit
Proper Keyword analysis to get the target audience to your website
Make your website SEO friendly following Google's Webmaster Guidelines
Use of appropriate content to win the target keyword group
Help your website earn relevant links
Proper anchor text distribution
Focus on proper signals (i.e. improving bounce rate, pages per view, CTR, social shares etc.).
At Webaholic, we are offering affordable SEO services and strategic SEO consultancy for over 12 years now. We know how to boost your local business website ranking with our white hat search engine optimization techniques. Being one of the top SEO agency in India, we don't just deliver search engine rankings but also nurture the real-time search queries that turn into business.
Why Choose Us As Your Preferred SEO Company in Kolkata?
We focus on higher search engine rankings and high click-through rate (CTR) but also overall your business growth, brand visibility & ROI.
Not just that, we follow complete ethical ways to rank your site according to Google Webmaster Guidelines to avoid getting penalized by Google.
We offer affordable SEO packages for small and medium scale business.
Our SEO Process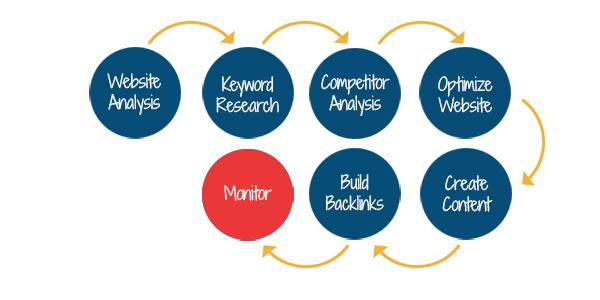 Website Analysis: We start our work by analyzing your website and performing a complete SEO audit. Here we take a closer look at different things, such as is your website following Google's Webmaster Guidelines? Is it using HTTPS? How fast it is loading? Not just that our technical SEO consultants also look for crawl error, mobile-first indexing error, broken links, 301 redirection error, robots.txt errors and many more. The detailed insights about the strength and weakness of your website helps us understand that where your website lacks and where we have to work.
Keyword Research: This is the most important part of SEO, identifying the right keywords. Not only, these keywords should be relevant to your business and will bring targeted traffic to your website, but also improve sales. If you don't have a comprehensive list of well-researched keywords, any SEO solutions can't bring any value to your business. Being the best SEO consultant in Kolkata, we understand the psychology of online searchers – why they are searching for a specific keyword. This helps us to create a manually curated list of keywords which are tailored to your business and can increase your ROI.
Competitor Analysis: Once we have the right keywords for your business, we start analyzing your competitors. Our SEO experts will go through your competitors websites, minutely analyze them and find out how well they are performing and why? The keywords they are targeting, how well they are rankings on SERPs for those keywords, number of backlinks they have and many other technical aspects. We closely examine their SEO strategy to understand where you rank among your competitors and plan a much better strategy for your business.
Optimize Website: Now our SEO professionals start working towards making your website SEO optimized so that it can rank better on Google, Bing and other search engines. Here we focus on on-page SEO techniques. We start with fixing the errors we notice during your website analysis and implement other important website optimization techniques such as schema markup, improve website load time, secure your website with HTTPS, add XML sitemap, robots.txt and many more. Now we incorporate the long tail keywords we got from our advanced keyword research. Here we also focus on title tags like H1 & H2 tags optimization, meta description optimization, image alt tag optimization, implement canonical tags, build internal links and outbound links and many more.
Create Content: Content is the backbone of search engine optimization. It doesn't matter how good is on-page or off-page SEO is, without a good content strategy you'll lose the race. Here we promote your website with blog posts, articles and guest post in such a way that it reaches to your potential customers.
Build Backlinks: With numerous updates of Google, backlinks still play a very important role in search engine rankings. As a top SEO company, we know that once a website gets a Google Penalty, it's really hard to get back its previous rankings. That's why our ethical link building team builds quality backlinks from authoritative websites and through outreach method with help your website rank in the top 10 results of Google.
Monitor: Here we monitor the SEO strategies we have implemented, how well they are performing. Our SEO professionals closely analyze where your website visitors are coming from, how they are navigating through your website, bounce rate, click-through rate (CTR) and other important details. We continuously keep track of your website's progress with different analytics tools and report back to you.
Hiring a SEO agency is compulsory nowadays, but you need to make sure that you choose the best SEO experts in Kolkata who knows all the SEO strategies and aware about the latest Google updates, which will help your website rankings in the long run. So if you are looking for reliable SEO services in Kolkata to handle your SEO project, then your search ends here. Ask for a free website SEO analysis report and feel the difference.
What Our Client's Say About Us

Some of Our Happy Clients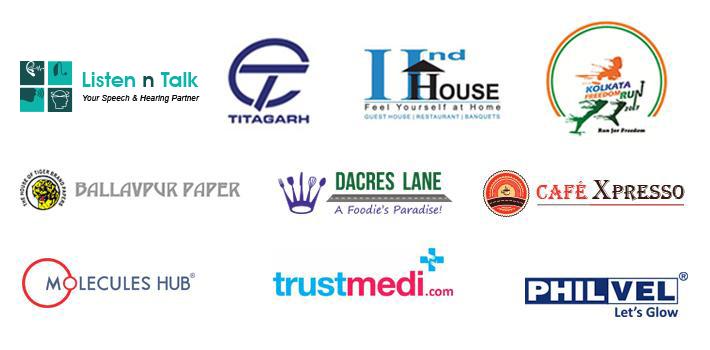 Frequently Asked Questions
Many of our customers don't have much idea about how the SEO process works. So, here are few queries we get frequently from our clients.
1. Why should I invest money in SEO?
Search Engine Optimization not only helps your website to rank higher in Google, but also increase brand visibility, quality traffic and give you better ROI. Also Google keeps updating their algorithm every year, and your SEO strategy should evolve to keep up with such changes. Having a team of SEO consultants by your side will help you to deal with these updates and meet your business goals.
2. How much does SEO costs?
Actually, the cost of white hat SEO services depends on different factor such as what keywords you are targeting, number of keywords you want to rank for, if you are in a highly competitive industry, if your website is brand new, if your website is penalized by search engines, your business goals and many more.
3. How much time does SEO take to show results?
Well, it depends on many factors. Is your website is brand new, are you in a highly competitive niche, was your website penalized by Google, does you website have spammy links and many more – these factors has a major effect in your website's SEO, which results in more time. Think of SEO is a long term investment, think it as a fitness training, the more time and effort you invest in it, the better results you'll get.
4. Can you guarantee the number #1 position in Google?
No one can guarantee you the no one spot in Google or Bing for a certain keyword for your website. Because no one individually controls Google search as there are so many factors beyond someone's control – changes in Google's ranking factors, SEO efforts by your competitors, and a lot of brand-new websites joining the internet.
5. I have already invested in SEM. Do I still need to invest in SEO?
Yes, absolutely! PPC advertising is expensive and a short term approach whereas SEO is a long term approach for your business. When you stop investing in advertising you stop getting leads or exposure but if you stop investing in SEO once your website is ranking higher on Google or Bing, the effects will still be present.