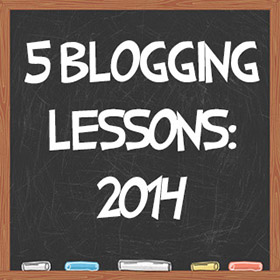 2013 is, suddenly, over and done with. What did you learn? Do you have a plan for your business' blog in 2014?
You should.
This article will give you the 5 biggest lessons you can take into 2014 to optimize the effectiveness of your content marketing strategy. I'll discuss:
1. How much and how often you should write
Yes we're still arguing about this, but I'll throw in my two cents and you can agree or disagree in the comments below (in fact, I encourage it).
My answer is 'Less to both, as long as you don't stink.'
Great content is better than a great amount of content. And it's easier to write great content if you're writing less than ten articles a week. An awesome 1000 word-article is better than a boring 2000-word article. And publishing awesome content four times a week is better than publishing bad content eight times a week.
Earlier today I wrote a guest post for FBPPC on the new Facebook Video Ads. The ads are a very new development in social media marketing and the information on them is pretty minimal. The article ended up about 1200 words. Yes I could've kept going, but it wouldn't have added value to the article. And I bet I would've gotten a hit in the performance and virality of the article if I had.
Your article should be as long as it needs to be – and no longer. If you're writing a comprehensive guide to Facebook Ads your blog post will probably end up being more than 2500 words, because otherwise (in my opinion) you'd be leaving something essential out.
Conversely, if you're writing an article on the new Twitter conversion tracking tool, you'd be hard pressed to get 1000 words. This is because the tool is so new (18th of December), and there's so little information and no case studies as yet.
More important than anything else, though, is formatting your blog for your reader. Blog readers skim. They want to know the main lessons of your article quickly. This means sub-headings, bolding the important takeaways, short paragraphs, bullet-points and (my personal favorite) something like a 'what this means for you' section.
2. Balancing your content format
Think of your blog article as a turkey dinner. Once you've had the main meal (and it's amazing, don't get me wrong) you have the leftovers still to eat. Who doesn't love the day-after turkey, stuffing and gravy? Or the cold pumpkin pie or turkey soup?
Slideshare presentations, infographics, webinars, social media posts and ebooks are the leftovers.
What does this mean for you?
The research you put so much time into for a blog article shouldn't be wasted. Take the statistics from a couple blog articles and compile an awesome (and visually appealing) Slideshare presentation. Write five articles on the same topic and create a comprehensive ebook. The list goes on.
Balancing your content intelligently is the best use of your time and energy. Your readership will also increase, as you'll be producing a bunch of varied, interesting information in bite-size, appealing pieces. Think about it, if you put a couple hours into researching for your blog article, do you really want to use that hard-earned research only once?
Here's an example: I recently wrote a series on the psychology behind a successful Facebook Ad. I spent a whole day researching how we are unconsciously influenced by colors, image and text, and how this impacts online advertising. This research turned into three awesome articles, three Slideshare presentations, an interactive infographic, an ebook, comment-fodder for my influencer marketing efforts, social media posts, as well as being used and cited more than 10 times in the articles I've written since.
3. The changes to SEO
Are you still spending as much time optimizing your blog for SEO as you are writing? Are you scavenging the web for ways to build more links because you think that's what it's all about? Well, stop.
Since Google integrated the Hummingbird algorithm in August there's been a decrease in the power of link-building. It's changing the way we think about SEO.
The focus for 2014 will be on SMO (Social Media Optimization).
In the wise words of Wishpond guest poster and chief editor for ChamberofCommerce.com Megan Totka, 'The Hummingbird algorithm values quality content that is relevant, authoritative, and shareable. The more your content has been shared across social media, the higher its perceived quality, and the better you'll rank on Google.'
Up until now, Google thought of links to your content as votes in how important that content was – hugely influencing whether or not your content was seen. Now, however, Google is rating social shares as equally important. In fact, Moz's SEO factors have found that Google +1's (unsurprisingly) are more important than any link building you may have previously pushed for.
What does this mean for you?
It means you need to put time and energy into making your content shareable on social media:
4. Creating a blog persona
Struggling for engagement? Is it because you sound the same as everybody else? Are your posts unoriginal, your titles blah and your facts and statistics nothing new?
Focus up, people. It's 2014 and you need to put some effort into your blog persona to succeed.
A blogging persona is something that sets you apart from the other million brands struggling to get original content to their target audience. A blogging persona increases the virality of your content as people are more likely to comment (which is valuable in SEO).
What does this mean for you?
It means you need to get creative about how you set your blog apart:
5. The new way to promote
2014 will be the year that influencer marketing really shoots up as a part of a blogger's daily responsibilities.
Influencer marketing is the strategy of creating a relationship with an influential thought-leader in your sector – and through them increasing your own business' influence online.
A picture's worth a thousand words, so here's what I'm talking about:
The image below is an actual screenshot of Wishpond's blog readership between July 25th and July 27th of 2013. On July 26th,social media influencer Mari Smith tweeted a link to one of our articles: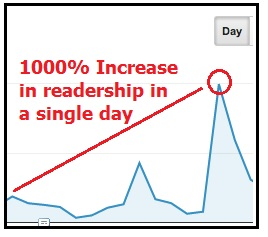 What does this mean for you?
Reach out to your sector's most influential people. Here's how:
Conclusion
Hopefully you can use some of these lessons in your 2014 content strategy sessions. Remember to emphasize social in your blogs, get creative to stand out from the crowd, and don't be afraid to reach out to powerful and influential thought-leaders in your sector.
Have you integrated these strategies into your business blogging strategy already? Have you had success or frustrations? Start the conversation below!
Opinions expressed in the article are those of the guest author and may not reflect the views of Webaholic.
About the Author: James Scherer is a content marketer for Wishpond and author of the ebook The Complete Guide to Facebook Ads. Wishpond makes it easy to run Facebook Ads, create landing pages & contests, email automation campaigns & manage all of your business' contacts.