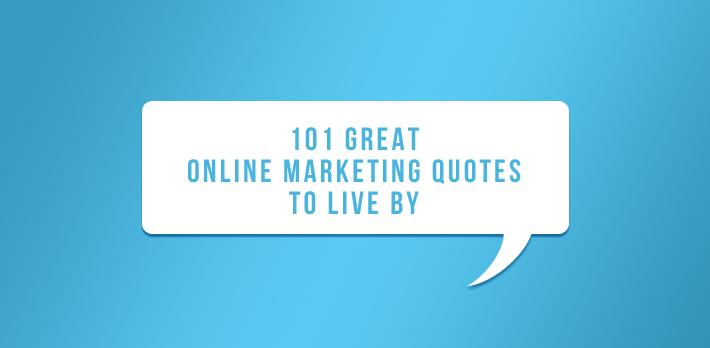 A little inspiration and good advice can go a long way. These 101 online marketing quotes which will get you inspired and increase your overall knowledge.
Starting with some of my favorites.
Don't find customers for your products, find products for your customers. – Seth Godin
Marketing is really just about sharing your passion. – Michael Hyatt
Done is better than perfect. – Facebook
Marketing is a contest for people's attention. – Seth Godin
Marketing is like sex, everyone thinks they're hood at it. – Steve Tobak
Marketing is too important to be left to the marketing department. – David Packard
Most of us have experienced wow moments. We just haven't taken time to think deeply about them. – Michael Hyatt
The customer isn't always right. But if you don't listen to them, your product won't be either. – Oli Gardner
The most powerful element in advertising is the truth. – Bill Bernbach
What helps people, helps business. – Leo Burnett
Making promises and keeping them is a great way to build a brand. – Seth Godin
Social Media Marketing Quotes

Marketing is no longer about the stuff that you make, but about the stories you tell. – Seth Godin
Privacy is dead, and social media holds the smoking gun. – Pete Cashmore
New marketing is about the relationships, not the medium. – Ben Grossman
A brand is no longer what we tell the consumer it is – it is what consumers tell each other it is. – Scott Cook
The hardest thing for marketers is to turn over the brand experience to the community and let them define it.– Eric Erwin
The problem with trying to determine ROI for Social Media is you are trying to put numeric quantities around human interactions and conversations, which are not quantifiable. – Jason Falls
Quit counting fans, followers and blog subscribers like bottle caps. Think, instead, about what you're hoping to achieve with and through the community that actually cares about what you're doing. – Amber Cadabra
Content marketing is a commitment, not a campaign. – Jon Buscall
Think like a publisher, not a marketer. – David Meerman Scott
Twitter is like hugging. Just because it's hard to measure the return on investment doesn't mean there isn't value there. – Tony Hsiesh
That's where a lot of the benefit of social networks comes from; the ability to promoted information to communities of like-minded individuals. – Lee Odden
When you give everyone a voice and give people power, the system usually ends up in a really good place. – Mark Zuckerberg
Our head of social media is the customer. – McDonald's
Focus on how to be social, not on how to do social. – Jay Baer
What happens in Vegas stays in Vegas; what happens on Twitter stay on Google forever. – Jure Klepic
Blogging Quotes

A blog is only as interesting as the interest shown in others. – Lee Odden
Don't focus on having a great blog. Focus on producing a blog that's great for your readers.  – Brian Clark
But there's a bigger trend I'm seeing: people who used to enjoy blogging their lives are now moving to Twitter. – Robert Scoble
Just as we don't spend a lot of time worrying about how all those poets out there are going to monetize their poetry, the same is true for most bloggers. – Seth Godin
A blog is merely a tool that lets you do anything from change the world to share your shopping list. – Author Unknown
Blogging is best learned by blogging…and by reading other bloggers. – George Siemens
Not only are bloggers suckers for the remarkable, so are the people who read blogs. – Seth Godin
Your blog is your unedited version of yourself. – Lorelle VanFossen
The first thing you need to decide when you build your blog is what you want to accomplish with it, and what it can do if successful. – Ron Dawson
Your blog is what you say when there is nobody standing over your shoulder telling you what to do. – Lorelle VanFossen
No matter what, the very first piece of social media real estate I'd start with is a blog. – Chris Brogan,
The right people to start video blogging are those with a passion to tell a story. – Steve Garfield
[The blog has] become a real conversation tool and forum to have a conversation with our customers. – Brian Lusk
The key with blogging is to lay it all out there because sooner or later people are going to know what you know, so might as well be the first one to share the information and get credit for it. – Neil Patel
Blog policy at Microsoft is just two words: Blog Smart. – Lawrence Liu
Search Engine Optimization Quotes

Websites don't link to other websites. People point to other people's work. – Lyndon Antcliff
Alexa data is slightly better than random guessing. – Rand Fishkin
Search engine optimization is not solely visualized as a rocket science by THOSE WHO COMPLETELY UNDERSTAND IT. – Danny Sullivan
It is not the job of search engine optimization to make a pig fly. It is the job of the SEO to genetically reengineer the Web site so that it becomes an eagle. – Bruce Clay
It is up to you to choose the best keywords and phrases for your website needs, but in the end, it all boils down to how you transform them. – Matt Web
Google will only look up to you once you have gained everyone's respect. – Wendy Piersall
My practical approach based on experience is to create a website for real Internet users, not for search engine spiders. – Dave Naylor
The objective is not to "make your links appear natural"; the objective is that your links are natural. – Matt Cutts
The success of a page should be measured by one criteria: Does the visitor do what you want them to do? – Aaron Wall
SEO is a noun, verb, and adjective. — Todd Malicoat
SEO is knowing what the search engines want and giving it to them… so hard they f***ing bleed — Dave Naylor
The Google SERPs are like the 10 seats in the front row of a hot concert. If you can get some strong friends to help you fill up the front row and keep the bum rushers and hecklers away – you'll enjoy a perfect view with no hassles or interruptions. — Brett Borders
No matter how much you spend on it, a web site is invisible until somebody links to it — Eric Ward
Paid search can live in a silo in an organization. SEO touches everything. — Seth Besmirtnik
SEO is not synonymous to JUNK E-MAIL. – Matt Cutts
Content Marketing Quotes

Content marketing is a commitment, not a campaign. — Jon Buscall
Content marketing is educating people enough to do business with you.  — Brian Clark
No one comes to your website to be entertained. They have questions they think you can answer. Content answers questions. — Jay Baer
Putting a gate between your customer and your precious content is like asking them to have sex before the first date.  — Gilad de Vries
Every page of content you've created could be the first interaction with your web site.Think of every page as a home page. — Jay Baer
Without strategy, content is just stuff, and the world has enough stuff.  — Arjun Basu
Good copy can't be written with tongue in cheek, written just for a living. You've got to believe in the product.  – David Oglivy
Content is king. – Bill Gates
You will fail without diverse content marketing strategies and an active community. — Melissa Fach
Content secret sauce – where your expertise & the needs of your customers meet. — Tammie Hutto Egloff
Content is NOT king – seeding and promotion tactics of said content is king. — Brian Chappell
Good content should have a higher purpose, have a point of view and takes a stand. — Robert Rose
How can I be interesting to my customers (content) if we (my competitors) are all talking about the same thing? — Nick Deaver
Interesting content lives in the Venn overlap of an org's expertise and audience's interests. — Ahava Leibtag
Write to be understood, speak to be heard, read to grow . . .  – Lawrence Clark Powell
Email Marketing Quotes

A small list that wants exactly what you're offering is better than a bigger list that isn't committed. — Ramsay Leimenstoll
Email has an ability many channels don't: creating valuable, personal touches – at scale. — David Newman
The right Email vendor can make the difference between success and frustration. — Jordie van Rijn
There are countless ways to build lists, but trust is what builds relationships. — Hunter Boyle
Cher's "If I could turn back time" is actually about her sending an email campaign with a mistake in it. — Alex Williams
Your winning email might be a woman bodybuilder; as strong as they come, but ugly as hell. — Jordie van Rijn
Email Acquisition is like cutting hair, must happen regularly, can be done well, but one bad experience can scar forever. —David Baker
Signing up is a powerful signal of intent to buy. Send them email until they do. — Jordie van Rijn
Focus on growing your list all of the time as newer subscribers are more engaged adding to healthier open rates and ROI. — Karl Murray
Quality over quantity – Emails may best cost efficient but it's no excuse to not produce quality content to give to a targeted audience. — Benjamin Murray
Open, click and unsubscribe rates are pretty poor measures for email engagement. — Jordie van Rijn
An email address is like a customer's "digital fingerprint". — David Daniels
Treat your subject line like the movie trailer – give a preview so they know what to expect. — Unknown
Personalisation – it is not about first/last name. It's about relevant content. — Dan Jak
An email without clarity is like an annoying mime: Just say what you want or get out the way! — Jordie van Rijn
Analytics Quotes

Without big data analytics, companies are blind and deaf, wandering out onto the Web like deer on a freeway. — Geoffrey Moore
The goal is to turn data into information, and information into insight. — Carly Fiorina
Experiment or die. — Avinash Kaushik
Getting the right web analytics tool is only half the battle; the real focus of your web analytics program should be the people who work with it. — Susan Fine
We have a long way to go to understand that web analytics is a thinking man's tool, not a solution unto itself. On the bright side, 73% of those surveyed might still figure out that web analytics can help them drive actionable insights one day. — Jim Sterne
The web is quite complex, you are going to access multiple sources of data, you are going to have to do a lot of leg work. Blood, sweat and tears. You don't just need tools for that (remember 85% of the data you get from any tool, free of paid is essentially the same. You need people. Hire the best people you can find, tools will never be a limitation for them. — Avinash Kaushik
It's much easier to double your business by doubling your conversion rate than by doubling your traffic. — Jeff Eisenberg
Web analytics is a fire extinguisher. Your website is on fire and you're burning cash. — Jim Sterne
If you build a Web site, you must have a solid reason for doing so. Once the Web site is operational, it is crucial to understand how well it works -failure to do so is a waste of time and money. — Hurol Inan
People won't use your Web site if they can't find their way around it. — Steve Krug
Don't measure what you can. Measure what you should. – Philip Sheldrake
What get's measured, gets managed. — Peter Drucker
Learn to love the data and, for heaven's sake, write well. — Ian Lurie
Measurement is Like Laundry. It Piles Up the Longer You Wait to Do It. — Amber Naslund
That which is measured improves. — Karl Pearson
Don't forget to add to the list in the comments below.  I can't wait to read what favorite marketing quotes you share!