Take the classic case of David and Goliath…it is the same story everywhere in the world of ranks. There is always one trying to outdo the other. Every webmaster as well as blogger wants rank higher than the other and wishes to compete with the giants that rule the field.
Earlier, things were different in the web world. Any Tom, Dick or Harry could compete with the giants and web rulers and gain better followings than them. But with the advent of technology, it is becoming very difficult to break into this world, leave alone out doing the others. Many tools like Dream Media has given undue positions in some hands while stealing away the advantage that the smaller yet worthier opponents had. This scenario makes it very difficult for the underdog to gain a stable position and compete with the giants.
But there is a ray of hope for the smaller opponents in Rich Snippets which has all the required tools to turn the tables and get enough strength to the small bloggers and webmasters too.
Introducing Rich Snippets
Take this every day routine into consideration. When you are searching for something on a search engine, say Google, you normally type the keyword which you want to query and it gets you ten search results at a time. There are different kinds of results for the same keywords. You should notice that the search result also includes user ratings, images, videos, author photo, published details and additional details which deal with the content in SERP or Search Engine Results Page. It is a well known fact that an image attracts the readers more than mere text. Hence the readers usually click on the search result which is accompanied by images and photos even if it not on the first position. Take the following case of SERP into consideration to have a clear understanding of the concept: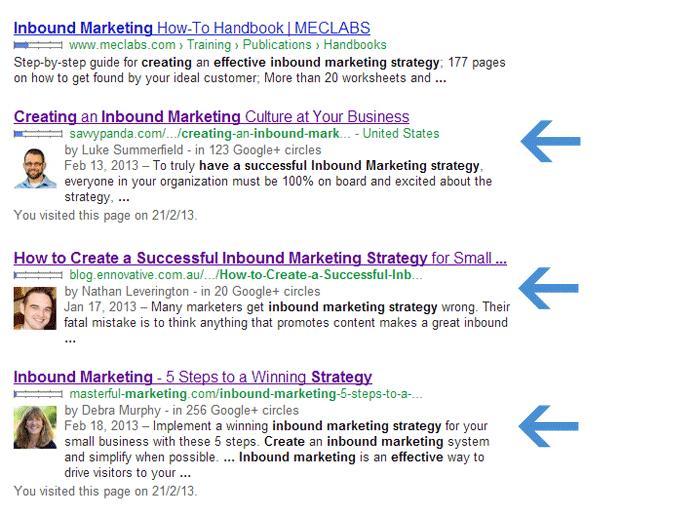 Take another case of SERPs sample concerned with banana pudding into consideration: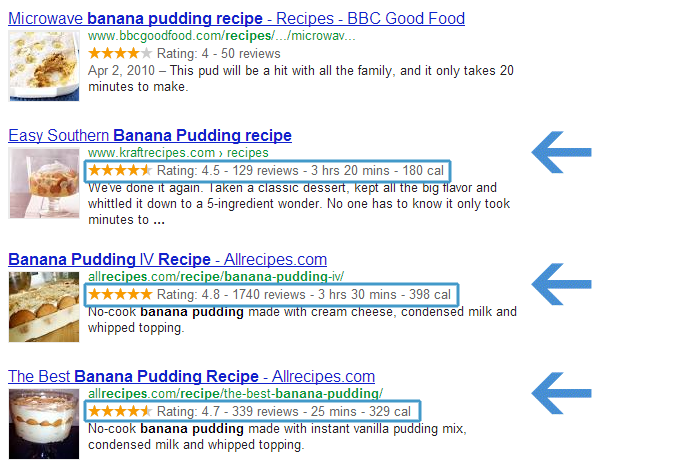 It is seen that the search results numbered two and three will be more appealing to the readers as it gives a visual appeal too. The text of the website is represented by images too and it makes the content all the more alluring. The second, third & fourth result is also very attractive as it is accompanied by user ratings as well as the author's picture. So, it is clearly evident that just making it to the top of SERPs is not winning the whole battle. See that how these sites rank at the top of SERPs for banana pudding keyword but the search results which are below also have a good share of readership.
The text information that is shown in the first place of the search result is called snippet. Along with this, you need to know that the second as well as the third search results are called rich snippets as they have images and visual aspects along with text only information. From the above mentioned examples, it is evident that the rich snippets gain an upper hand when it comes to readership. So, it is good to know more about rich snippets so that we can gain too.
It should come as good news to the bloggers as well as webmasters that Google has added a new feature on Google Webmaster Tools that helps the new users to add rich snippets on the website without any need of alter the back end codes. This option comes with point-and-click addition which includes rich snippet markup to a certain page and this is called The Data Highlighter, this option can be located in Google Webmaster Tools under Optimization tab. With this option, using rich snippets is a lot easier. All you have to do is to select content from any web page, then choose the type of data that it represents, like it can be an event and then it can be published as a rich snippet right away. You should also understand that at present, this option can only be used for an event and is available in English only. Right below is a screenshot which throws light in the Data Highlighter option that is available in Google Webmaster Tools.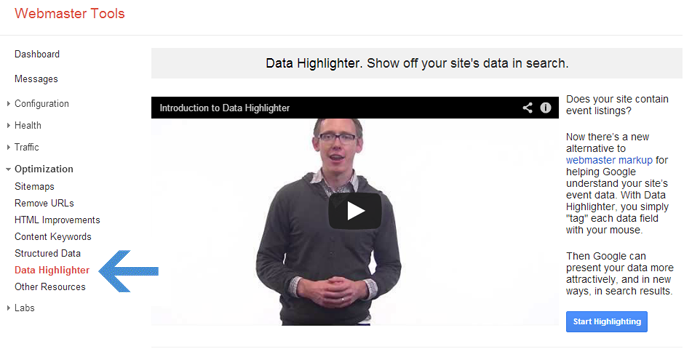 Google has announced the concept concerning rich snippets in the year 2009 on May 12th. It has also defined them as new representations of plain snippets that are used for searching. This highlights the data that is embedded in the content of the web pages. So plainly speaking, it gathers more information than content that is included in the Meta description tags and Meta Title of the page. The readers get to see this additional information through images, videos, date of publishing, star ratings and so on. There are three markup languages that are used for structured data in your web page and these include:
From these three markup languages, Microdata is recommended by Google.
The markup data provided by Google for various web pages are:
Reviews are markup of data that is structured for rich snippets and applies to service pages or product pages. The page contains juts one product or service.
This markup is used for e-commerce sites which are used to display the ratings, reviews, prices and availability of products. You get markup data for [ages that contain a single product and pages which contain more than one products. You must take note that the product markup that you use will be used specifically for that particular web page where the user gets to buy the product.
From the above given example in the second screenshot, it must have become clear to you that recipes are good way to represent using rich snippets format. Recipes work well on the pages that contain single recipes just like in the case of markup for reviews.
This markup applies to event pages that are dedicated to art exhibitions and musical concerts only. This can be used to display the venue and time of the event. This information should not include price of the ticket or any other discounts schemes. You cannot make use of this markup for services or products which include clothing sales or trip packages.
This markup is used to display the organizations and businesses as local. It is used by Google for understanding of places that are mentioned in your site, other contents like contact information and reviews.
This hold for web pages that contain songs or song information like playlists from albums, lyrics, etc. it is when this markup is used for quick preview of many things like song lists that is sued in the search snippet. This helps easy navigation as the users can make use of the link given directly to listen to the particular song. An example of the rich snippet is given below.

How Rich Snippets Factor in Search
Keeping aside all the geek talk, the main objective behind Rich snippet is to make your job easier by making indexing easier for the search engines. All in all, it is the same story as mentioned before.
Microdata, microformats along with Rich Snippets can be related to meta tags, indirectly. This concept has been with use since past decade but the reason why these are becoming an important factor is that search engines are always on the lookout for ways to implement a better semantic approach when they deliver search results and rich snippet is one of the main methods to do so. The trick does not lie in keyword matching now; Rich snippets are the real players here. The actual meaning holds more importance now and software has evolved in such a way so that it delivers just what the users want.
You should pay more attention to as well as bask in the glory of rich snippets if you are a website owner or a webmaster. You should give importance to the challenges and opportunities of rich snippets because it will help your website in more ways than one. As the main focus of rich snippets is content relevance, it can help your website get a higher ranking than the one with niche keywords optimization. You can count the benefits to be overall traffic, click through rates and conversions. Cutting the long story short, rich snippets are nothing more than the implementing techniques that will give your website an edge over the others.
About Schema.org:
The mentioned set of structured data would only work for Google but might work well for other search engines. This is the reason due to which Scheme.org. For this, Google and many other search engines like Bing, Yandex and Yahoo together implemented a common set consisting of microdata vocabulary called Schema.org. This happened two years after rich snippets were introduced. As already mentioned, it is seen that microdata structured markup is preferred to other RDFa and microformat. The main reason behind this is that Schema.org is mainly a microdata vocabulary. It is not an independent language but largely depends on microdata language. Another reason behind this is that many web browsers support this markup and hence microdata should be used for website more than anyother markup. In other words, Schema.org should be user best bet. There are various types of Schem.org that are available and you must check them out.
In the words of Google:
"Microdata strikes a balance between the extensibility of RDFa and the simplicity of microformats, so this is the format that we've gone with."
Given below is a sample of microdata markup along with Schema vocabulary:

If you don to have various formats mixed up, Google is more likely to support your RDFa or Microformat language.
Using Rich Snippets to Stand Apart
You must do a bit of research at Rich Snippets Testing Tools powered by Google and this will make your web properties all the more appealing to search engines. You just need to enter the URL of the particular page and you will see the results very soon. The RSTT will do the job of analyzing your content as well as suggesting ways in which you can improve the pages and make them rank better by making use of RDFa as well as microformat techniques.
After you get the feedback, you will need to modify back-end markup which will help you in addressing the problems that you find. The task of tweaking markup is critical and the reason for this is that Google will take a look at the semantic structure of the layouts in the process of zeroing in on the summation of your website which it will present to the readers.
Implementing Snippets in the Blog Formula
The author markup should be ready for processing as the first thing on your list to do. For this, you will need to have an account at Google+. It will also require some amount of coding knowledge along with an ounce of patience.
Along with this if you can implement certain aspects of the schema.org Article markup, mainly the following attributes, then there is a chance that your high-quality blog posts/articles may appear for Google "In Depth Article" feature.
headline
alternativeHeadline
image (note: the image must be crawlable and indexable)
description
datePublished
articleBody
Real-world Examples
One piece of practical advice is that when you are making your blog with rich snippets, there is not dearth of tutorials as well as online examples. You should make the most of these to work for your advantage.
You can make use of one of the product of Google known as Rich Snippet FAQ-style page which will help you get started in this area. You need to start with picking up a specific markup format for targeting your snippets. It is recommended that you make use of microdata but if you are using RDFa, it is fine too. After you have made the preparations, you will need to brush up your HTML5 knowledge which will help you get going.
If your website largely depends on customer reviews or reviews from data feeds, you will need rich snippet to do your job of including the customer reviews of data feeds in your search listings. The same thing can be done for including information about organizations, products, events that are related to your website and this will make your search result descriptive as well as full featured.
If your content is of good quality and the information that you give is valuable, rich snippet will increase traffic flow to your website in no time.
Rich Snippets for SEO:
It is a fact that having structured data markup is no guarantee for high rankings in search engine; it does increase the click through rates which is done by rich snippets. Hence, if you the search result for your website is laced with images, videos, customer ratings, etc. you website is more likely to get more get better visibility.
You should not give in to online search ranking competition. Making clever use of rich snippet will help you in getting your job done by directing more readers to your website or blog.
The Last Word
Ultimately, Google's attention to rich snippets can be compared to Facebook's Open Graph efforts. The main reason behind giving extra attention to rich snippet is that Google wants its readers to have a direct search and locate the exact content which they want. It aims to simplify the search that is made by users. Rich snippets makes use of techniques that simplify the search and makes the users locate the content which they require easily. Facebook also aims at making search of people easier hence it uses Open Graph. Rich snippets are really powerful tools that help in getting the required content easier.
 Folks at BlueGlass have made this fantastic visual guide to rich snippets

Enjoy! Some food for thought: How do you see rich snippets evolving in the future? Share your valuable inputs in the comments section below.