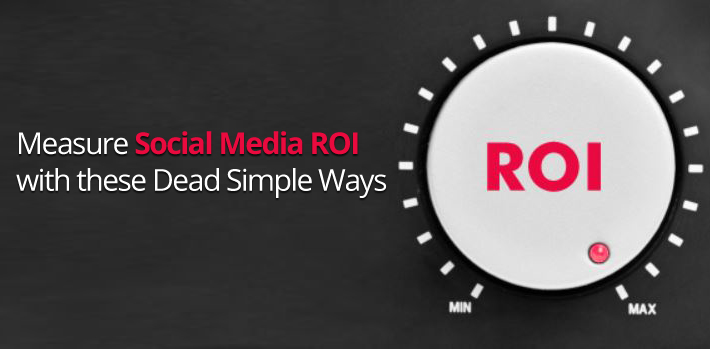 There is no doubt that small businesses should have a social media presence or not. If not for anything else, but the visibility and connectivity which is offered by social media in todays' time has convinced most business owners that it is indispensible to have an investment in the social media just for its undoubted returns.
But the curiosity which often might arise for any businessman is how much time and effort will it consume to give the best ROI? While most of the average small business owners have an opinion that it's worthwhile to be on Facebook, but again there is a section of people who might agree monitoring it and posting 24/7 would be a waste of resources. The only way to know how much social media is enough for you is to have some sort of metrics on your return on investment. In this way without any hitches you can keep a track of the ROI and thus make necessary changes if and when required.
A study by Lenskold Group shows that less than 20% of marketers feel they can measure social media ROI.
Most marketers indicate social media measurement in a high priority. 48% feel pressure to report quantified outcomes of social media.
That's not to say measuring ROI is a snap. Fast Company cites an Adobe white paper that says 88% of 750 surveyed marketing professionals didn't feel they could accurately measure the effectiveness of their social media campaigns. Fifty-two percent said that dealing with social media ROI was their biggest frustration. Again this doesn't stop you from your own tracking but yes systematic and methodical approach often defies strong logics.
Marketers are still struggling to effectively measure their social media ROI, mainly because they're still trying to calculate these results with traditional methods, or have become so dazzled by social metrics (Likes, followers) that they have lost sight of their original business goals.
This infographic from the Word Of Mouth Marketing Association (WOMMA) looks at the 3 myths of social media ROI.

But before you start measuring your social media ROI you need to have a proper social media strategy on place. And this post will help you creating one : How To Create A Social Media Marketing Strategy in 6 Easy Steps
Now let's get down to business and look through a few ways to ease the annoyance. Though measuring social media ROI may not be perfect, it's not impossible either. These methods can help you gauge what your small business is getting out of its social media investment.
Metric Tools
Facebook doesn't limit page administrators to the data on their own admin panel. One example is "Facebook Conversion Tracking", a Facebook tool that allows those who advertise on the platform to record the behavior of those who click on ads.
For example If a customer clicks and then goes on your site to register, then you have proof that the ad was at least effective for that particular product or service . No doubt the ideal scenario is when a customer clicks through an ad and then buys something on your site.
There are also tools which if used in combination can be more powerful, such as Conversion Tracking and OptimizedCPM, which helps Facebook ads target the right people. So when you have track of the people who have clicked through your ads can make future ads even more effective. But now what you might think is how effective can it be? A survey reveals that the Company Fab used the same pair of tools to cut its new customer acquisition cost by 39%.
Now if you are worried about setting up Facebook Conversion Tracking you can follow this post : How To Setup Facebook Conversion Tracking
Understanding the need for marketers to measure their social media performance, many social media sites provide built-in analytics tools for tracking engagement, likes, shares, etc. There's Facebook Insights, Twitter Analytics, LinkedIn Company Page Insights, and Pinterest Web Analytics to name a few. Check out this post by Chuck Price on Search Engine Watch on how these 11 free tools will help you measure your social media success.
Often times you will find tools like these are really handy at measuring your performance within the social media platform, but do little to show how your social media actions affect the bottom line or contribute to conversions, which usually happen outside that platform and on your own site.
Calculate Your Reach
When it comes to social media ROI, first you need to determine how many people you could potentially reach/target with social media. Let's say you are running a campaign on Facebook & Twitter, this equates to the number of Facebook fans and Twitter followers you have. However, this is not the end of the story. Your content reach is limited only to the amount of friends and followers that people who engage with your brand. For an example, if you have 1000 followers on Facebook and Twitter and they have a combined total of 20,000 followers, then your content reach is 21,000.
Sentiment
Measure of how your business is perceived on different social media channels. It can be very difficult to measure sentiment although you do need to compare the number of positive and negative mentions. Fortunately, you don't have to spend hours painstakingly going through tweets to find out what people are saying. It is possible to get natural language processing tools from a variety of sites online that will quickly and effectively help you discover whether mentions of your company are positive or negative.
Interactions
Once we would believe that interaction was the only way to tell that your audience whether they could hear you at all. But this measurement seems to have lost its weight between impressions and likes. Interactions are still very relevant in social media monitoring — particularly when you understand what each of them means.
Every single comment, photo, video or post takes a few seconds for a user to digest. It is estimated that the average 'like' on Facebook takes seven seconds per person, while close friends of this person will take an average of five seconds to digest that 'like.' So there is no doubt about one thing that interactions do have a great influence in pulling your crowd.
Analyzing these numbers by how many likes were received, multiplied by how many friends of those likes witnessed the action can give you a more accurate — not to mention brighter — idea of how far your message reached your target audience.
Analyzing Traffic
Through your website's analytics you can tell how often people find your page via Facebook or Twitter, but again it's not always easy to tell what actions on these social media cites have driven that traffic, or how much that traffic truly cost. This might seem to be a very frustrating situation but by analyzing your website analytics against CPM or PPC campaigns, however much more becomes clear. You gradually start to get a better picture of your ROI.
Study the average cost of those PPC campaigns per person then analyze that cost against how many visitors you get from free social media placements. After that you can put a dollar sign on the traffic you derive from Facebook pages, Twitter links and the like.
Though no social media ROI measurement is perfect or comprehensive, neither are many measurements of ROIs in other PR and marketing efforts. Nevertheless using these methods, and using them over time, will be best for revealing of your current ROI, as well as create benchmarks against which to measure future social media efforts and strategies. Thus nothing really goes into drain-neither your effort on measuring nor the investment.
Marketing Channels
Another mistake which often many people do is that they use social media metric to measure the returns. This is a gross mistake. You should never talk in terms of fans, followers, likes and retweets. You should dispose of all of this social media lingo and start thinking in terms of other marketing channels and what you measure there.
For example, if you focus on pay-per-click advertising, you should measure cost per impression, cost per click and sometimes cost per conversion. If you focus on public relations, you should measure cost per impression and sometimes cost per mention. The one thing that you can measure right now is how much you spend on content; agency fees and total spend on social media marketing. Once you start comparing all of that with the cost of whatever is brought to your website or whatever the conversions are from social media, then it's easy for people to understand social media ROI. You are free to use the terminology that executives are familiar with.
You Can Measure Performance
Most companies have a variety of different website analytic tools; however, the majority use Google Analytics. Let's see how you first need to have a goal set up for your conversion page with a thank-you page. So you set up the goal on the thank-you page. Then with every link that you share, you add "custom URL parameters." There are three parameters you can append to the end of a URL to tell Google Analytics the campaign, the medium and the source of where that link was posted. The smooth application of these parameters can help you keep a track and maintain them in a database. This tells you exactly which status update generates a specific conversion because you have numbered each status update and has it in a database. Pay minute attention to all the conversions which are happening so that you can be happy that the social media ROI has given good results.
Using The Data
This is where it gets complex and is also where certain experts say that social media ROI can't be accurately measured. And this is because coming up with a monetary value of your campaign is virtually impossible to nail down because there is some guesswork involved. Nonetheless, you can give it a pretty good go.
For example, you can go back to your goals. Let's say you are measuring ROI through sales, now you need to analyze the metrics from your monitoring tools to see if your level of sales has increased or not. If it has, then you can dive into the number of referrers on your e-commerce site from different social media channels or the amount of coupons distributed in a Facebook offer. It is also very important to look at trends. For an instance, did your website store experience a spike in traffic soon after you posted on Facebook? Is it the case where a high sentiment analysis on Twitter results in better sales?
Social Media ROI Formula
ROI is not metrics, but you need metrics to measure business value of an initiative, whether it's driven by social media or not. The equation goes like this:

ROI calculations are based on coming up with numbers for the benefit that your social media campaign brought you and the costs or investment related to that campaign..
Here the benefits could be increased website traffic, generated leads, increased sales, higher customer satisfaction, reduction in the amount spent on customer service cost. The costs would be determined by calculating the cost of the social media campaign including the people involved, the money spent on processes like marketing, advertisements, the cost of the software and implementation etc.
Neil Patel from Quicksprout have created this helpful guide to show you how to measure the ROI of your social media campaigns and you can use that data to maximize your return on investment.

10 Examples of Social Media ROI
The infographic below from Psoshul shows how 10 companies successfully used social media marketing initiatives and measured their effectiveness.

Conclusion
In the end, it is important to realize that measuring social media ROI is far more complex than the usual cost versus increase in sales equation we are familiar with. While you can find out if social media is positively effecting your business, it isn't possible at this point to know its full effect.
Ultimately, there are far too many variables to limit social media to a single fixed point. Additionally, social ROI is inevitably delayed ROI because it takes time for a post to resonate with your customers to the point where they go from visitors to a paid customers. You can't pinpoint when a certain customer decided to make this switch either. What you can do is stop being so focused on social media ROI and concentrate instead on finding out what you have learned from your customers.
Hopefully you now understand a bit about how the ROI of social media can – and can't – be measured. What do you think? What are your thoughts on measuring social media ROI?