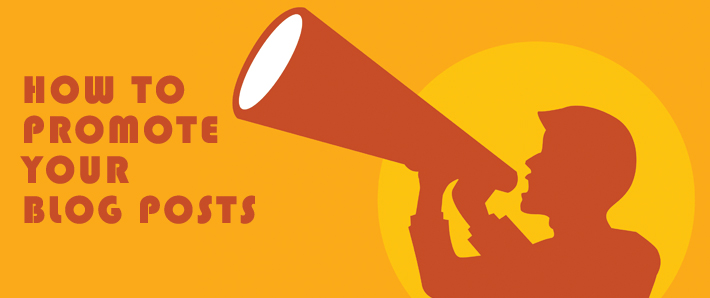 Most online marketers or entrepreneurs prefer blogging as a probable part of their marketing strategy. Many of them think that if they want more traffic, they will have to engage in blogging most of the time, write longer blog posts, and also write guest posts. But in all these there is a common link. Various social media forums help you to promote your blog very easily without much of fuss. There are umpteen social media sites like Facebook, Twitter, Google+, LinkedIn, and the latest being Pinterest that can easily get your blog posts in front of hundreds or thousands of readers within minutes. With the push of a button, you can broadcast your post to all these sites. Apart from all these there are a lot more which you can always do.
So without further ado here are 28+ ways to promote your blog posts.
#1: Pitch Other Bloggers
The most effective way of getting the word out about a new post is to let other bloggers know about it. There isn't much more powerful way to find new readers than another blogger recommending something you've written to people who trust them. Getting other bloggers to link to your posts is not always easy though – particularly in the early days of a blog or if you don't have some sort of profile or pre-existing relationship with the bloggers that you're pitching. But at the same time it is not too tough.
#2: Facebook Update
On Oct. 4th it was announced that Facebook hit 1 billion active users. Use Facebook actively to grow your business. Being active on Facebook and having a good number of followers' works best for distributing or broadcasting your blog content. Updating your Facebook page with your latest blog post can catapult traffic to your website faster than Google can find and index your new post.
#3: Twitter Update
Twitter is great for posting links with a short (140 characters) description. It's good practice to make sure you're using your keywords and hash tags in your Twitter posts. Unlike Facebook, Twitter posts are searchable. Using keywords and hash tags helps searchers to find your content easily.
#4: Google+ Update
These days Google+ is becoming very important for businesses. Your Google+ page and recent posts, is eligible to show up on the right-hand side of Google's Search Engine Results Page (SERP), if Google finds your content relevant to its customer's search. Therefore using it is very useful for your blogs.
#5: Share On Social Media Groups
Sharing content to related Facebook, LinkedIn groups & Google+ communities can bring new visitors to your content. But do check the rules before posting and try not to spam or endless self-promote.
#6: Use Pinterest Shared Boards For More Effect
As they say images speak louder than words and it's much easier for visual content to go viral. So be sure to post your blog posts on Pinterest shared boards for the vital effect.
#7: Publish To Relevant Sub-Reddits
Reddit got 'sub-reddits' in thousands of different types, which is a great way to reach wider audience and drive ton of traffic to your new blog posts.
Enter your keyword in the search bar and figure out the most relevant sub-Reddit, but do check the rules before sharing content.
#8: Don't Forget To Use StumbleUpon
This is an oldie but it still works. StumbleUpon is still one of the top traffic driver for Blogaholic. It doesn't take a minute to "Stumble" a post and you never know when it could lead to massive amount of traffic. You don't want a chance to miss out on additional traffic boosts. It's a really great way to reach more people beyond your regular circles.
#9: Post It On Instagram
According to new research from Pew, Instagram is quickly becoming one of the most interesting places to be online. But yes there is no way to link directly to your posts from Instagram but it's always good to let your followers know that you have a new post on your blog.
#10: Don't Lose Out Flipboard
Flipboard is a mobile app turned web based which turns your content into stunning magazine style formats and taps into their 80 million users with just a couple of clicks.
Build up a digital magazine that shares the best content across your niche. Big name blogs like Copyblogger are already in on the act.
#11: Scoop It With Scoop.It
Unlike Flipboard, Scoop.It also allows you to share content in a magazine style format.
But what's unique with Scoop It is that you can suggest content to other people's page and if your content is good then they might share it. Only suggest your articles to other people's pages if it's relevant.
#12: Make Visually Beautiful Slideshows
Turn your posts into well-designed slideshows and share it on Slideshare. Don't forget to link to it in the description and the slideshow. This trick can bring in server busting traffic overnight.
#13: Package Your Posts Into PDFs
Turn your blog posts into PDF files and add to sites like DocStoc and Scribd to reach new audience. These sites have huge internal audiences looking for new content.
#14: Leverage on Search Engines
Google will judge your website for updates and index new pages and posts. You want to make sure your website is being indexed the way you would want your content to be found in the search engines. Make sure you're using your keywords in the title tag, header and throughout the article, but in a natural way. The best practice is to write for the human reader and not so much for search engines. Also ensure that you are publishing original content.
#15: Enable Email This Post
You can use "email this post" on your blog. This will enable people to forward your posts to friends. Although it might not have an instant impact on your site stats, but it helps others to publicize your blog for you.
#16: Email Signature
Always include a link to your blog URL in your email signature so that each time you message a customer, new contact, colleague, or even your friends, you're promoting your blog and encouraging them to check it out.
#17: Judge Your Audience
A great way to build an audience is one to one interaction. Once you have a clear understanding of your audience and you have them in mind, your writing gains the needed focus. This specific focus goes a long way toward repeat visitors.
#18: Use Share Buttons
By making your website content easy to share helps your readers easily share your products or services with their social network.
#19: Comment Actively
Always comment on a blog if you really find it interesting. This way, others who read and are interested in your comment and click back to your profile and check out your blogs.
#20: Use Email Newsletter
Email marketing is an important tool for marketing your business and building customer loyalty. Ensure that you have a newsletter subscription form on your website and give your customers and website visitors a compelling reason to sign up. Once you have your email list, you can use an email marketing tool to send out a monthly newsletter. You can also add your latest blog post to your newsletter.
#21: Use FeedBurner
If you have a blog, syndicating your content allows your customers to subscribe to your blog and receive new posts to their email inbox or their feed reader. FeedBurner is a RSS feed service for bloggers, podcasters, and other web-based content publishers. It's easy to setup and use right away.
#22: Use Social Bookmarking
Social Bookmarking is a great way to generate fast traffic to your site. Sites like Digg, StumbleUpon, Reddit and Delicious allow you to bookmark website links on the web and share them with other users. Bookmarking also helps to build quality backlinks to your site, pages and posts. Having quality backlinks is the key to better search engine rankings. 
#23: Share on Different Blogging Communities
Blogging communities are a great way to connect with likeminded people writing about your niche. It's a place to engage, build alliances and assist each other in promoting content. It's kinda like you scratch my back I'll scratch yours. These blogging communities can differ depending on your niche but when it comes to internet marketing here's a few you can count on:
#24: Create Internal Links
A great deal of blog promotion tips focus upon how to promote your blog on other people's blogs and sites – but a great way to promote your blog post is to do it on your own blog. One thing that you can try to do with your best posts after you publish them is to think about where you could promote it on your own blog. Find places where you've covered similar topics before and add your link as a 'related reading' link or even add a link to your new post within the content of an old post. Every link you add on your own blog to your new post potentially sends your current readers to your new post but also helps your blog with Search Engine Optimization (internal links count too). 
#25: Promote Your Post
This tip might not be for everyone and is definitely only for those special posts that you write and you particularly want to drive traffic to. Often we avoid spending money for our won promotion, but if you spend a little money that definitely yield you with huge returns. Key posts that have a high 'usefulness factor' to potential readers are a great way to find new loyal readers to a blog. Rather than advertising the front page of your blog a high quality post can actually be the perfect landing page for an advertisement. 
#26: Reach Out
Then reach out to people who have already linked or shared similar content. Find the best content in your niche and try to make your posts better than that. Trust me, spamming won't work here.
#27: Write Press Releases
PR's often serve you good and it at times costs nothing. If you can use your PR's effectively it can be very effective provided you have a luck in your favor.
#28: Create Follow Up Posts
If you've just written a post that you feel is important and you want more traffic to come your way then the best thing to do is write a second post extending the first in some way. This technique is very effective for adding a sense of momentum to your blog which in turn draws attention of your previous readers once again.
Andreea Ayers has assembled a number of promotional ideas into an awesome infographic:

The key to managing a successful blog and getting more readers is by posting quality and "compelling" content. If you're posting good stuff and getting it out there for your customers to find, your content will be well received, read more and shared more often. At last but not the least promoting your blogs is completely your own creative journey and the more you delve into the options you might discover many more ways.
What other ways do you follow to promote your posts? Share your thoughts in the comments section below.