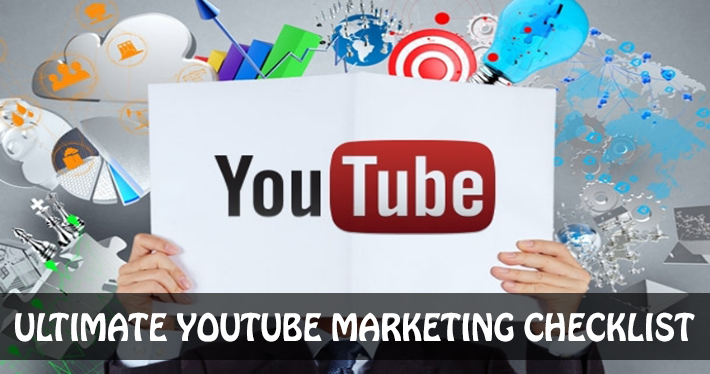 Since the title makes you read this post, I assume that you are already branding your business through YouTube, or you intend to do so. If neither is the case with you, I believe it is time that you jump onto the YouTube marketing bandwagon considering the below facts.
Also, according to Edgar Dale's Cone of Experience, people remember and thereby learn 50% of what they see and hear, as compared to 10% of what they read and 20% of what they just hear.
(Though some doesn't agree with Edger Dale Cone of Learning. You can find some researched papers here, here and there is an overview here.)
Now could there be a better yet feasible way to make your prospects learn about your brand?
All of these stats are not quite new to many out there. Yet they seem to not leverage the platform optimally.
Seldom do brands realize that YouTube marketing is not just about uploading videos and hoping to see your brand get noticed. Much more goes into a comprehensive YouTube marketing strategy.
We shall go through each aspect of a wholesome YouTube marketing blueprint, while you can check the ones that you are or aren't implementing for promoting your brand.
Is your brand using these types of videos?
Demos – This is quite an obvious kind of video that we see in many brands' YouTube channels. Demonstration of a product helps get your products and services much more close to your potential customers as they get to discover the products in detail.
Google Home promo cum demo makes a perfect example.
Staff Intros – Rarely do brands do this; but it isn't a bad idea in any way. These videos can help your brand gain credibility, as people get to know who is behind the curtains. The more popular your executives are, the better your brand image gets.
Also, you get to be known as a transparent company, which serves as a great adjective for any business.
Check how DreamHost features its employees in a video that projects how they feels about being a part of the company. The video leaves an image that the brand keeps its employees happy and thus they are able to add value to its customers.
How-to's – People like brands that address its client's troubles with their products.
Isn't it always a better way to find out how something works through a quick video, rather than calling the customer care and wasting good time to explain the problem?
To top it up, these types of videos are great to grab the search traffic to your channel.
VideoScribe sets a great example here.
Dedications – You can instantly win hearts by creating videos that are dedicated to a customer. The video could be an answer to something asked by a prospect or an existing subscriber.
These videos can be anything from how-to videos to a quick cheesy animated clip thanking a set of loyal customers.
Pro photographer Matt Granger does this well by addressing his viewer's photography doubts through his Photography Q&A videos.
Teasers – Teasers and trailers of your products are another great way to get heads turning towards your brand. These videos generate anticipation among your customers, which helps generate the much needed buzz about your brand.
See how COD Ghosts does it –
Serial Clips – A lengthy video can be cut short into multiple videos, thus leading to a series of related videos that precede and succeed each other.
Doing this not only makes the load time better, but also attracts more views, as viewers often tend to go for shorter videos. Besides, it's a great SEO practice too. Above all, you keep your viewers coming back for more.
See how ReelSEO leverages this technique through its creator tips series (which has over 100 videos on YouTube marketing tips like the one below).
Interviews – Interviewing known figures in your business niche can pass on the fame juice to your brand.
No wonder you find many online entrepreneurs interviewing the big shots of their respective niches!
Checkout this interview of Ken Levine, the co-founder of Irrational Games featured on ZoominGames channel.
Testimonials – Customer testimonials are great social signals that prove your brand's trustworthiness. Genuine testimonials serve as baits to grab new deals.
See how Omada Health uses a client's testimonial to its advantage.
Are your Videos going Social?
Creating the above mentioned videos is not it. They then need to be delivered to your target.
Expecting people to reach your channel is not a good idea. The good idea is taking your channel/videos to them.
Needn't mention that all sorts of people can now be seen on some or the other social network. Taking your videos to these networks is akin to bringing them to your target's eyes. Depending on your niche's likely audience, it is for you to decide which social networks to tap.
Yes; unlike most people I do not say that you need to widen your presence by being in every social networking site to make yourself seen and heard. What's good for the goose needn't always be good for the gander. So research a little on where your target audience spends more time and use that platform to the fullest, instead of promoting your brand's videos where there is little scope.
However, here are some ways you can promote your brand's YouTube videos that result in high returns for almost all niche.
Pinterest – Pinterest boards are like playlist on YouTube. Similar stuff can be clubbed on these boards. This makes your videos much more niche specific. Try creating pin boards for specific topic and include everything that comes in the topic related to your business; like images, your YouTube videos and articles.
Blog it – A great way to get your brand go social is by creating a dedicated blog, and by guest blogging about your niche on other authority sites/blogs. You can double the benefit by embedding your YouTube videos within the posts. After all, people love multimedia over plain text.
Another thing to do is setting up a YouTube subscription widget in your blogs/sites.
Newsletters – Why not use your mailing list to drive traffic to your YouTube channel?
You can use your videos in your newsletter wherever it make sense, as it indirectly tell your subscribers that they can get in touch with you through YouTube too. This may convert your email subscribers in to your YouTube subs.
If you are using Aweber to deliver your newsletter, here is how to go about using videos in it.
Press Releases – Including your videos in online press releases is a sure-fire way to market your channel to the huge number of their subscribers.
Web 2.0 sites – This is just another form for guest posting that I have mentioned earlier. Just that, in this case, the videos are posted in web 2.0 sites like Squidoo and Hubpages which attract immense traffic.
Facebook – When we talk social, we aren't going to miss Facebook. Are we?
There are many ways to market your YouTube channel and videos through this platform. Some are:
Integrating your Brand's channel in your Facebook page as a tab (Can be done through a Facebook app).
Facebook video adverts (check the below video for a quick guide on this).
Twitter – Promote your channel through your brand's Twitter a/c. The ROI depends on how tactfully you go about it.
PPC – PPC advertising have always been a digital marketer's favorite. Be it a website, an affiliate product or even a YouTube Channel. Including your YouTube Channel in your brand's ad campaign could prove to be helpful.
Are you making use of these channel tweaks?
Thanks to the new YouTube channel design, the so called YouTube One, branding a YouTube channel has become much easier. Check if your channel is using these features.
A well designed, brand defining channel art.
Integrate your brand's social media profiles in your channel.
Using your website link in the description of your videos.
A well crafted and comprehensive 'about' section.
Organizing videos through playlists.
Interact with the viewers through annotations.
Not monetizing your channel with any kind of advertisements.
Use external annotations to link to relevant pages on your brand's blogs and website.
Use video intros and outros that are designed with your brand in mind.
Using custom thumbnails that get viewers clicking on your videos.
Driving viewership to a particular video through the InVideoProgramming feature.
Allowing your channel to appear in other channels' recommendations.
Use captions to make your channel's videos user friendly.
Having a well composed and short welcome video that gives a gist of your brand and what is in it for your viewers. Below is a perfect example.
Is your Channel search friendly?
I need not mention that digital marketing and search engine optimization go hand in hand. YouTube marketing too requires SEO. SEO for YouTube videos varies a little bit from that of blogs/sites/ecommerce. But the core idea remains the same – building inbound links, proper keywords placement, etc.
On the brighter side, it is easier to rank a YouTube video in Google web search as compared to ranking a blog/site.
Below are some YouTube SEO must-knows –
Doing a keyword research (with the Google Keyword Planner).
Using the keyword in title, tags and description.
Interlinking videos through annotations.
Building inbound links from good blogs, sites and other video hosting platforms.
Using closed captions for your videos.
Name the video file with the keyword in it.
Creating playlists that include your videos.
Posting HD videos.
Having call-to-actions in the videos that help you grab subscribers.
Thus the four aspects – using the social networking platforms to reach people, creating various kinds of compelling videos, branding the channel with features of YouTube one and finally touching up with some SEO tweaks; all together make an exemplary YouTube marketing strategy that can give your brand the much needed nudge on YouTube playfield.
Let me know in the comments if there is something more you think can be part of this checklist. I'd be glad to learn from you.