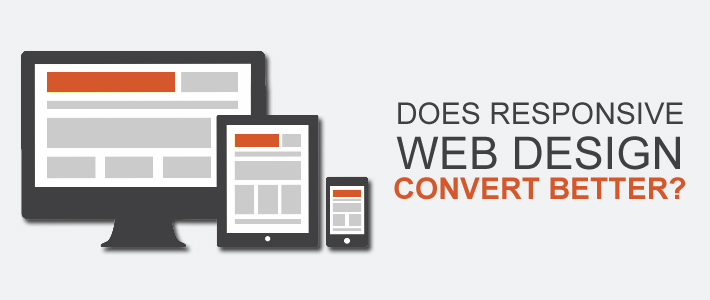 Nowadays mobile usage has hit the roof. Modern mobile phones such as smartphones and tablets have taken the place of desktops. These smartphones bring a lot of stuff that one would love to have. Accessing social media to the browsing internet, everything has become easy, thanks to these smartphones.
Google, the web search giant (according to Google, it has the total 67 percent search market in 2013) has declared that it has a preference of using responsive web design as the mobile configuration.
A recent study shows that many big businesses have not yet chosen this trend for some reasons. To understand the market of mobile usages, the following statistics from Smart Insights could help you a lot.
Now Google searches are being done on any type of mobile devices for more than 20% than they were done previously.
In 2012 more than half of all local searches were performed from mobile devices.
In the USA, 25 percent of Internet users only access the internet via a mobile device.
People opened their emails on mobile phones and tablets – 25.85 percent being opened on mobile whereas 10.16 percent being opened on tablets.
In this year (2014) Internet usage through mobile devices is expected to surpass that through desktops.
1.08 billion out of the 4 billion mobile phones are smartphones and 3.05 are SMS supported.
Research also shows that 69% of tablet users shopped on their device within the last 30 days. This infographic from Seocial gives you more detailed insights.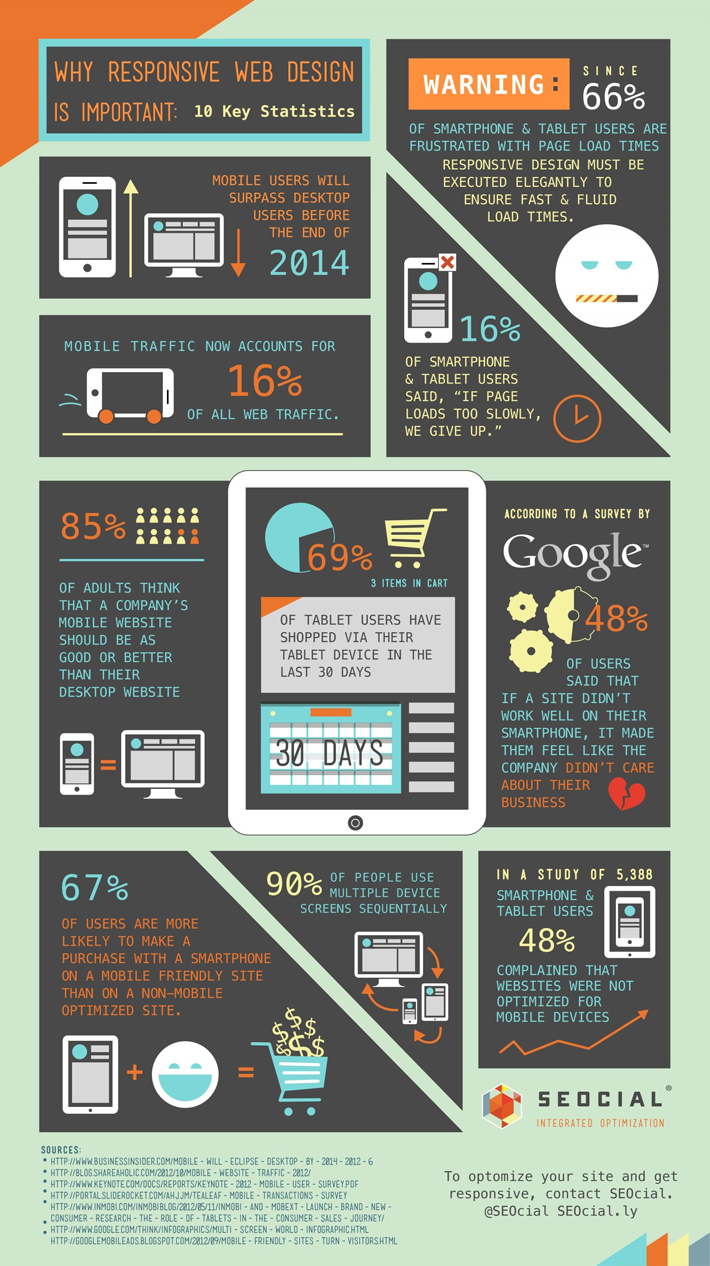 So, it is needless to say that mobile usage is snowballing. Using the above statistics businesses need to adjust their mobile web experience for their web visitors if they want to win the customers' hearts.
But the requirement for responsive design is a little bit misread in some ways because generally, we think that mobile traffic is the only reason for using the responsive website designs. In earlier days, based on a specific width and screen resolution, we could design various websites easily. And we didn't have to get concerned about various types of mobile devices such as the Tablets and the smartphones. The only mechanism we had to be concerned about were the different kinds of browsers that were available in the tech market.
But today the total scenario has changed. Now we have the opportunity to access the internet from countless devices with various kinds of screen width and resolution, browser and combinations. In this case, responsive design is a boon to the internet industry. Makers should not have to concern themselves on the multiple versions of devices.
Shopping on mobile devices can be painful with desktop view:
Nowadays smartphones are also used to buy products from different online shopping stores, but the whole procedure of trying to purchase something from a desktop design website on a smartphone is a real pain for the users. It is very difficult to navigate and zoom on a computer-monitor-sized website on a three to a four-inch screen in order to find appropriate content. If a website gives its visitors a chance to access their site with the proper and comfortable screen size when visitors are using a smartphone, then it can easily enhance its business by reaching innumerable visitors. Otherwise, visitors will move to the other websites which will offer them that facility.
Meanwhile, it is found that those who are using a mobile phone for online shopping, they are more comfortable in taking actions like replacing the product or returning the product by clicking only the "Replace Order" or the "Cancel Order" button. The statistical analyses show that about 30% (according to Nielsen, It is 29%) of smartphone users have used their phones for online shopping. This percentage will surely increase as the site owners would improve their mobile browsing experience for their visitors. All the big online shopping tycoons have started using mobile-friendly web designs. They have invested a lot of money in such projects.
Webundies is a family-owned retailer of sleepwear, underwear and loungewear. This company is a good specimen of those businesses who have been successful in increasing their business by choosing responsive web design. For Webundies, mobile sales in 2012 increased by an enormous 169.2% from the previous year. They implement responsive design as well as a tablet-optimized catalogue to lift their mobile and tablet conversions.
Basic rules to boost an online business: A commercial website with a desktop design view that would like to enrich the mobile browsing experience should follow the following rules to uplift their business:
Build their website using responsive web design.
Build an out-and-out mobile website.
Build a mobile app for the smartphones.
The consequence of responsive design on mobile conversions:
Recently a research done by Aberdeen Group reports that websites can achieve 10.9% more visitors if the site is designed with a responsive design, while non-responsive design users achieve only 2.7% increase in their business. The following bar graph shows the year-over-year rates.
The Aberdeen study shows, some remarkable improvements in brand awareness, customer commitment, average order value and company revenue. This study report shows that there is a significant change in conversion rates.
So this is the time to look into the big companies' strategies on how to boost business. All these companies changed their desktop view to responsive design.
The company whose name should come at first is the popular e-commerce store O´Neill Clothing. They have seen notable results after applying the responsive design. Before going to use the responsive web design, O`Neill scrutinised all their business transactions, revenue, and conversions, for more than three weeks. Then, after installing the new technology, they checked the same metrics for the same time period. And the outcomes are amazing:
For iOS
Total Conversions increased by 65.71%
Transactions augmented by 112.50%
Revenue went up by 101.25%
For Android
Conversions augmented by 407.32%
Transactions increased by 333.33%
Revenue increased by a mammoth 591.42%
Think Thank Photo (TTP) is a firm that yields kit and accessories for the photographers. After observing their mobile visitors, only 13% of their whole website traffic, TTP decided to reconstruct their site with responsive design for the mobile purpose. And they achieved an 188% increase in their business revenue and mobile website page view was increased by more than 200 percent as well as the transaction became double from the smartphones and tablets.
Similar to the previous examples, Maxatec, the renowned mobile, barcode products and POS & EPOS Systems Company saw a growth in mobile visitors' percentage and in order to boost the commercial conversions, they took the decision to develop their user experience for the mobile phones with the help of responsive web design. As a result, they experienced a 12% increase in mobile visitors' conversion section. And it is found that the average time to complete a job decreased by 50%.
Companies like Skinny Ties also experienced the same kind of business profit after using responsive web design for their mobile users.
Conclusion:
As prophesied, the pronounced case studies clearly show that responsive design is far superior to convenient desktop design. In the commercial world, it is necessary to stay ahead of the race. When the smartphone perception is increasing, having a desktop design could turn out to be affluent in terms of lost revenue. Probabilities are that your challengers aren't making use of responsive website designs, which indicates that they are losing out on prospective customers. And so, that is the chance to be at the top table and make your money.